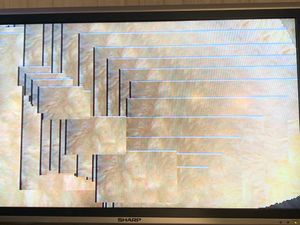 MAnFish InterGalactic
MAnFish is a multimedia artist-musician from London based in the City of Angels. He does music, video-art, mixed media often simultaneously... live on stage and in his hybrid format... the "Valbum"™. 
He has performed to millions worldwide from Star Club to Live 8, a hit TV series to experimental projects... with artists from a Beatle to a Sex Pistol. He was a member of Chrome, influential pioneers of industrial-rock. 
CREDITS: Hugh Cornwell (Stranglers), Blondie, James White aka Chance, Chrome (industrial / noise rock, psych-punk), Glen Matlock (Sex Pistols, Faces and Iggy Pop), FKA Twigs, Dave Vanian (Damned), OK GO, David Devant, Deadbeats, FarFlung, Steve Nieve & The Playboys (aka The Attractions) w guests Paul McCartney, Roy Orbison, Elton John etc. on C4 TV series... VIDEO ART & MUSIC: Exploding Plastic Inevitable (Velvet Underground & Warhol Factory), Tate, NFL Live. Digital Debris, Coaxial Arts, MOMA... 
GENRES: R&R, PostPunk, Psych, Noise-Rock, Industrial, Art-Pop, Dance-Punk, Trip to Hip-Hop, Punk Jazz, No Wave, Electronica & Hybrids... Psychedelic, surreal, abstract, pop-art
The underground of LA and London mixed cutting edge music, performance art and a love for modern to contemporary art but it was the Exploding Plastic Inevitable that opened the multimedia rabbit hole.