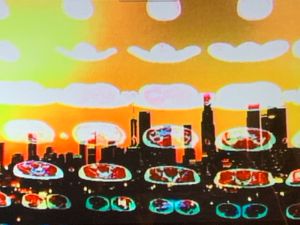 INTERGALACTIC INTERMEDIA 
EXPLODING PLASTIC PRODUCTIONS: ALADDINS CAVE & BLACK LAGOON Studios...
Custom Visuals and Projection Art for Stage and Screen
Music / Composition / Records
Works and Special Projects for public and private spaces 
"THE MUSIC FLOORED ME"  GREG BURK (LA TIMES) 
Personnel: VOCALS Tim Buckley, William Burroughs, Hugh Cornwell (The Stranglers), Beans, Pamela Hutchinson (The Emotions), Rob Gallagher, Shawn Lee, Gregory Corso, Nikki, Irene Peet, Paul Dawson, ManFish... DRUMS - Clem Burke, Shawn Lee, Denny Weston, Brain, Chris Bell, Brad Pitt, Jesse Johnstone, Seve, ManFish... GUITAR: Hugh Cornwell, Helios Creed, Jon Klein, Roman Jugg, Tom Livemore, ManFish... BASS - ManFish... KEYS & SYNTHS: Doug Aitkin, Thomas Johansen, Tommy Grenas, Yumiko Shinozaki, ManFish... STUDIO: Dave Russell, Tom Elmhurst, Paul Reeve, Arno Bascunana, Thomas Johansen, Jon Klein (Spacebaby), Damian Wagner, Kevin Dippold, Chris Nakata, ManFish (if it sounds good it probably wasnt me)... SAX - Tracy Wannomae  SITAR - Shawn Lee, ADDL: "Burning Pier": Improv sounds- John Balkin, Bunk Gardner, Buzz Gardner, Lee Underwood, Maury Baker.  Bo Ningen on "In & Out". Dwindle Family Orchestra - Kenny Long, Rick Cox, Jon Eric Greenberg, Todd Dwindle, Dale Turner, Russell Conlon, Alain Johannes on "Ladies Explosion".  ManFish also plays Upright Bs, Koto, Oud, Manjo, Electronic Percussion, Musical Toys, Squakophone.